Fashion is a multifaceted field that runs parallel with originality. It is a fluctuating media that encompasses the inevitable changes and influence of trend, design and individualism.
The nature in which fashion lives as a whole can be personified due to the volatile pace it changes, and the dynamics it holds within itself.
It can be acknowledged that fashion provides a physicality in way of expression and can be defined as the style of clothing and the era in which one wears. Fashion that appears on runways in Paris and Milan may contrast to that of purposeful apparel, which can be seen by the likes of Carhart etc.
Effectively, the industry embodies the strands that make the umbrella term; fashion. This is through manufacturing, design, marketing, advertising and then the distribution of the product.
In a world where fashion changes daily, fast fashion brands seem to excel and thrive on mass production, non-ethical practices with a desire to replicate the originality of young designers survive. The purpose? To exploit emerging artists in a way to benefit themselves as multi-million-pound enterprises. This comes back to my opening statement; fashion is a multifaceted field that runs parallel with originality.
Interview with Elizabeth Rose, Fashion Design Graduate
I interviewed Elizabeth Rose, a design graduate who has worked for a contemporary men's tailor in London and completed an internship with H&M at its headquarters in Sweden. She has been recognised by the University and emerging platforms because of her intuition within fashion, and also her eye for original ideas.
She has recently completed a fashion design degree and spoke to me about the struggles of being an up and coming designer, as well as the hardship faced when putting their ideas out into a world that takes and hardly gives back.
What was the most challenging thing about designing and producing during the pandemic?
I think when you are used to (and taught to) creating in an in-house environment, finding a new way of working that works for you at home, is a huge shock to the system. There was no how-to guide - you just had to get on with it and make it work.
Not being able to communicate as easily with peers also created obstacles that can slow you and your motivation down. Not having access to places from which I would derive my inspiration, limited my creative process as everything had to be taken from online or books if I had them already. Places such as museums, clothing stores, and even the buzz of visiting popular places crowded with young creatives, was gone.
Producing was almost cut off completely unless you were lucky enough to have the equipment already at home - but we all know how privileged you have to be to have access to thousands of pounds of industry equipment lying around at home. It stopped me from making my final collection and being featured on the catwalk of Graduate Fashion Week - something I have dreamt of since starting university.
How important is sustainability, and remaining ethical as a new designer?
Sustainability is at the forefront of my creative outlook for production and design. We live in a society where everything is too readily available and unfortunately, many people don't think past what is in front of them.
Questions like; where has my clothes come from? Who made it? Were they fairly paid to make this? How can I responsibly dispose of this? Can I recycle it? Can I pass it on? Does it biodegrade? These are often not thought about by the majority. I hope in the future to open people's minds on this, as it's a pressing issue that is often overlooked.
Although the fashion industry can be looked at as a whole as one of the most significant pollutants to the planet. It is still crucial that everyone educates themselves so that we all shop and dispose of clothing responsibly. I try to source my fabric from second hand, end of line rolls or cutoffs/fabric scraps. I find creating a one-off piece from pre-existing garments holds more value and story.
Has the impact of covid prepared you properly for industry-based work? And do you think the difficulties have made you more resilient to the challenges you will ultimately face as a young designer?
I would say that the impacts from COVID has unfortunately done nothing but hinder young designers and limit opportunities. The fashion industry has done its best to adjust, however, if it all has to be done over a computer, there's only so much you can do in a world that thrives on communication and teamwork.
Working strictly at home with limited help has been a huge challenge to overcome with demanding deadlines and the stress of huge workloads. I think now that we are coming out of COVID, I can say that my resilience to overcome these challenges has significantly improved, as we all were put into an unfamiliar scenario with no time to think.
Contrastingly, the world of fashion is evolving and the designers must go with it, it has been recently noted that John Galliano is no longer producing shows and he aims to only produce content that can be streamed, so this idea suggests that fashion as a whole may be moving digital. Adaption is key to success in terms of design.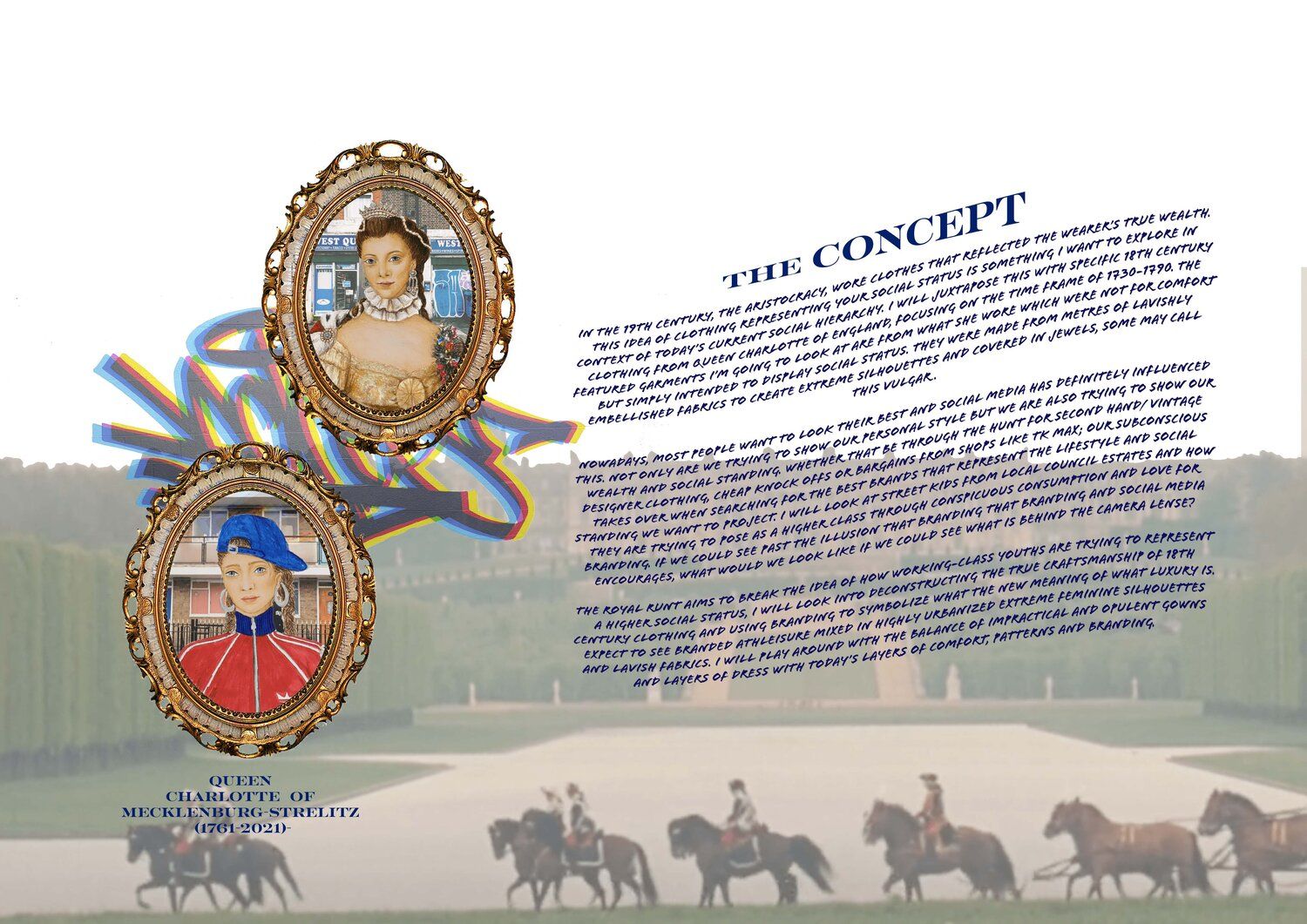 What do you think of new designers work being ripped off by big fashion houses? E.g Nensi Dojaka and house of CB scandal?
I can't understand that people/companies are still able to get away with such talentless fraud. This is still a major issue in the fashion industry, there need to be more laws that safeguard young designers. They cannot afford the lawyers they would need to sue these bigger companies who straight up copy their ideas.
Also, what's worse is that the churned-out thoughtless copies are often only worn a couple of times and thrown away by the consumer when it's not in trend anymore, or due to its quality not lasting. It is evidently clear that these companies simply do it for their own personal greed with absolutely no regard or respect to the smaller designers who will have shed blood, sweat and tears coming up with their designs or the planet we live on.
It is a well-known fact that the fashion industry is a huge pollutant. The climate is already facing detrimental changes. Putting stricter laws in place could significantly limit or hopefully stop these capitalist companies from getting away with tearing the hope and opportunities from new emerging talent. In addition, put an end to designers from being told to rip off other people's ideas.
Although this is very idealistic and with money and business being at the forefront of peoples priorities, this could limit the number of garments made, help the planet and give new designers a fairer chance of making it in the industry.
How does it feel to be featured in Index magazine?
I am honoured! To have only been able to make 2 looks of my 6-look collection and have my first look featured in their 5th issue "The Future" showing new emerging designers, really meant a lot to me. It has given me the push I needed to keep creating. I remember reading when Alexander McQueen was featured when he first started out. To have my look chosen by Sam Ranger (out of 10 other designers) who has worked with Vogue, Harrods and Harvey Nichols to name a few was also extremely flattering. I am very grateful for the opportunity.
Sustainability, ethics and originality are all subdivisions of fashion that are infringed hugely by huge companies in order to supply the demand for people's needs and demand for cheap fashion. It was brought to my attention that of Kanye West's doing. It was suggested he attended a Wolford (an established Austrian lingerie brand that revenues 137.22 euros a year) event which showcased the new naked basics line. Four weeks later, SKIMS was trademarked, and Kim Kardashian cashed in on ideas already made by an established designer but for a more 'reasonable price'.
This emphasises the idea that even people in the industry who preach 'supporting' are actually talking shit, because they see potential and use their 'bigger and better' platforms to do so.
The art of fashion is changing, but it should not hinder the opportunities for emerging designers who are trying their best to get their feet off the competitive ground that has been made by un-original and stealing brands.
The fashion fraud that occurs is diminishing the pride and necessary uniqueness of new designers, without this we have no chance of further trends and fashion will fall victim to its own famous creators.