Source: GRMDaily
Some have achieved mainstream success in the UK with summer hit songs but such as Ella Mai's "Boo'd Up" which earned her a Grammy for Best R&B song and was one of my most played songs of 2019, which I seem to share with others as it has over 200M Spotify streams.
Speaking of Spotify, I have to give them credit for one of the most personal, tailored algorithms I've ever experienced. The more I listened to UK R&B the more it suggested music that was scarily in tune with what I already loved.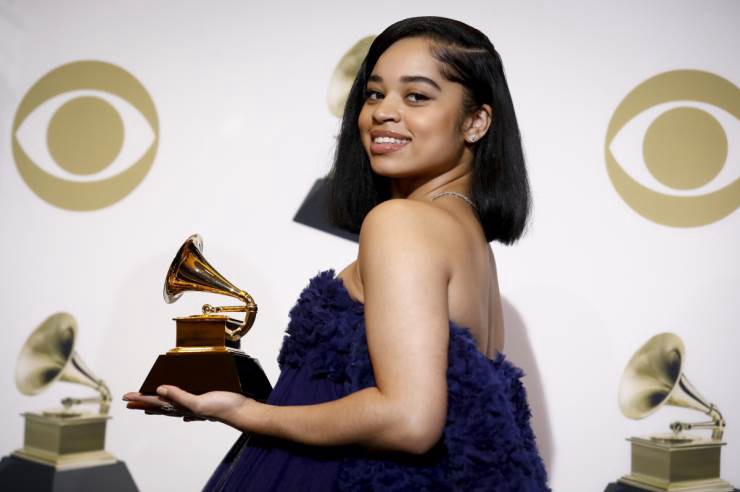 One of my favourites finds this year is the remarkable Jorja Smith, originally from Walsall but based in London, her debut album "Lost & Found" was most likely my most played album of the year by March. It revealed to be a very personal account of losing yourself, finding yourself and then losing yourself again only to find yourself one more time; which was painfully relatable for this newly grad recently thrown into the 'real world'.
Her seemingly effortless vocals on the penultimate song "Don't Watch Me Cry" is the type to make me clutch at my heart and sigh sadly while swaying to the tune of the beautiful piano melody; as a result, it is a tough contender for my favourite song on the album.
The opening track on her EP Project 11, "Something In The Way", has an eargasmic blend of instruments to create a soulful nostalgia of saying goodbye to someone who wasn't good for you while becoming your own independent woman.
Her features are all just as amazing, notably "Slow Down" with Maverick Sabre which reads as an open and honest conversation between two people about their feelings set to a smooth, rhythmic beat that throws you in the middle of it like a fly on the wall and all you can do is watch as they fight while empathising with both sides but unable to find a solution.
A song that I think deserves way more recognition is "Northside" by Ama Lou, an infectious tune about carrying a piece of your hometown with you no matter how far you travel; it portrays a familiar sense of attachment to the place you grew up in.
The beat reminds me of being in school and seeing the same people every day, hanging out with your friends after school, going shopping in the town centre; takes me back to a simpler time before you knew that the world is so much bigger than just your city. Lou is proud of representing North London and knows wherever she goes it's still home to her.
You know that feeling when you listen to a record and are floored at how it can accurately pinpoint exactly how you're feeling in a precise moment. "Make Room" by Miraa May was that for me.
An upbeat track that as she says is great to 'buss a whine' to while reminding you how boss you are. You can do exactly what you want to do and it's nobody's business but yours because they should worry about themselves. After all, you are only going to worry about yourself.
Another empowering song on her "Care Package" EP is Nobody which in the same vain talks about not wasting your time on people that don't deserve it, don't be quick to trust everyone because not all have your best interests at heart.
Her songs "Rendezvous" and "Angles" have also been featured heavily at my one-woman dance parties. She is definitely one of my go-to's for amping me up and a quick reminder of how awesome we women are.
To reduce the tempo during the quarantine the heavens opened up and Pip Millett fell out. Her "Lost in June" EP features a profoundly heartfelt love letter to her best friend called "Ava" which was the first song that made me fall in love with her voice.
Her voice has the ability to zone out excess noise and brings a tranquil sense of peace upon you; even when singing about heavier topics such as depression in "Something Bout The Rain" or losing a loved one in "June". Her music is ideal for sitting outside on a warm summer's night drinking a cup of tea reminiscing about the good times and also the sad times.
My last recommendation but certainly not least is the immensely talented Mahalia. I first discovered her through the collaboration with Ella Mai "What You Did", a true R&B track through and through.
It details the hurt and pain felt when someone you love betrays your trust; the audacity they had to disrespect you can't be forgiven regardless of how much you love them. Her "Isolation Tapes" EP was one of the few shining lights of quarantine.
The track "Too Nice" is one you will replay over and over again, not only because of the hypnotic beat but also the somewhat comedic story of knowing someone likes you but they won't do anything about it but you also refuse to make the first move.
Her collaboration with Burna Boy on "Simmer" is the perfect summer party anthem, I assure you playing this at your summer cookout will have everyone dancing immediately; you don't even realise your hips are moving to the enchanting reggae-R&B mash upbeat until the song ends!
Other countries have great R&B singers, especially as listening to non-English music has become more popular, however, I've yet to hear artists making R&B tunes as masterfully as the UK. People love to say that R&B died in the 90s or 00s – which is widely regarded as the golden age for the genre – but I promise, listening to these artists will change your mind.