Known for her fashion sense, carefree attitude, vlogs, and of course her family-owned and run company Wildflower Cases, Devon Lee Carlson has risen to become the internet's favorite it-girl. She has been claimed by Paper Magazine to be the "People's influencer". This multi-hyphenate powerhouse recently released a collection with Marc Jacobs that dropped on the 3rd of August 2021.
Marc Jacobs is a fashion designer known for his sartorial interpretations of trends in popular culture, more specifically the grunge collection that is now associated with the 1990s. The brand has geared to younger audiences by getting influencers to showcase the new fragrances that come out every so often.
People like Ashley (better known as Best Dressed on social media), and Ava Jules have been sponsored by the brand before, making it clear that the brand has changed its trajectory to be well-suited for the Gen Z demographic.
Devon's mix of the y2k aesthetic with her interest in vintage clothing has created a large following with many looking up to her, especially those who are Gen Z. This is seen in her collection with Marc Jacobs, which is very much inspired by the early 2000s trends that have taken the fashion world by storm since 2020. It features elements from her personal life like her dog Martin, her doodles, and her smile.
"...all of the pieces in this collaboration were designed to be worn in any setting, at home with slippers or out on the town with your most fun heels. Getting to design this collaboration has been such an honor and a dream that I'm just waiting to wake up from!"
- Devon Lee Carlson
Fast fashion and influencers, TikTokers or otherwise, have a mutually beneficial relationship; the faster influencers (especially those with a bigger audience) change their "aesthetics", the more sales fast fashion brands can make.
In an article by Clara Fisher for The Aggie, she stated that:
"This is an effective business model for both influencers and brands. Consumers are left feeling out of fashion if they can't keep up with the immense amount of products being pushed into their faces on a daily basis. Fast fashion companies capitalize on this, making goods more accessible to the general public by producing vast amounts of poorly made products for shoppers to pick from at a cheap price."
There are eight pieces in the collection in total. Because of the price point, people can strip down these clothing items and take inspiration from the shapes and basic ideas to build outfits from the clothes they already own.
Thus, this article elaborates on both the piece itself and ideas of how to style them, for those who did choose to invest in these pieces or for those who can't necessarily buy the collection.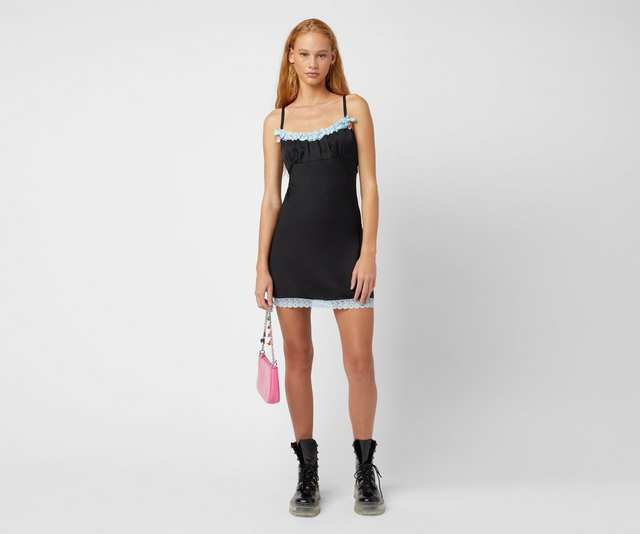 Starting with the Devon Slip Dress, it is a quintessential Devon staple. Devon is constantly sporting a slip dress: Exhibit A. Though the concept itself is relatively simple, it is something that everyone can wear and style up or down depending on the occasion or what one is feeling that day. The added details like the ties at the back and the charms provide a youthful look to fit any Gen Z/Millennials' wardrobe.
It is described as: "A short, spaghetti strap dress with contrasting lace trims and "MJ" charms and bows on each strap. Ties at the back for a more fitted look. A dress that can be worn from day to night."
To style: A la Devon, I'd pair the dress with a small handbag with a pair of sunglasses for the daytime. But for the nighttime, an oversized leather blazer and platform sandals would add a level of sophistication yet trendiness to amp up this simple dress.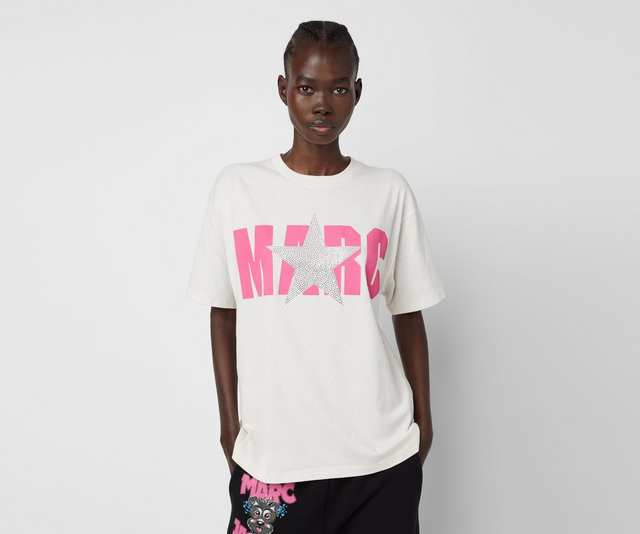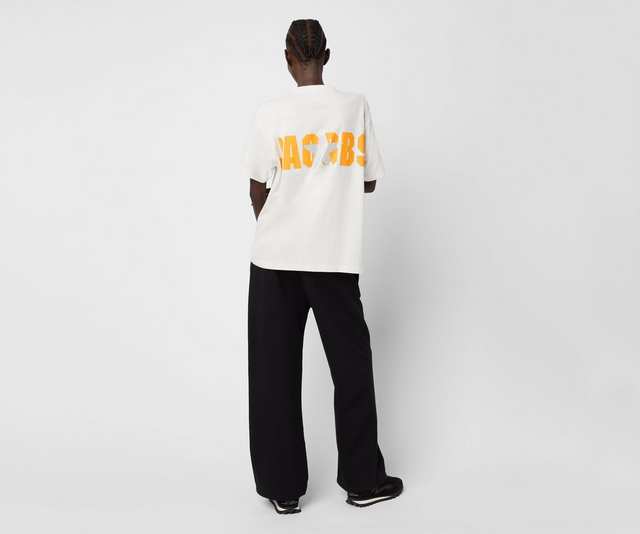 The Devon Oversized Tee screams y2k. It is a basic clothing item but very much Devon-ified with the diamante star on both the front and the back. The fact that it is a white t-shirt provides a lot of versatility and innumerable ways to style it. For example, since it is oversized, playing around with silhouettes would be a great start.
It is described as: "An oversized t-shirt with diamante stars on both the front and back. Marc logo on the front, Jacobs on the back."
To style: You can't go wrong with a good pair of jeans with a white t-shirt, just like Devon herself. But also, you could play around with the pink color of the front by pairing this t-shirt with some pink bottoms or accessories like a bright pink skirt like Devon perhaps?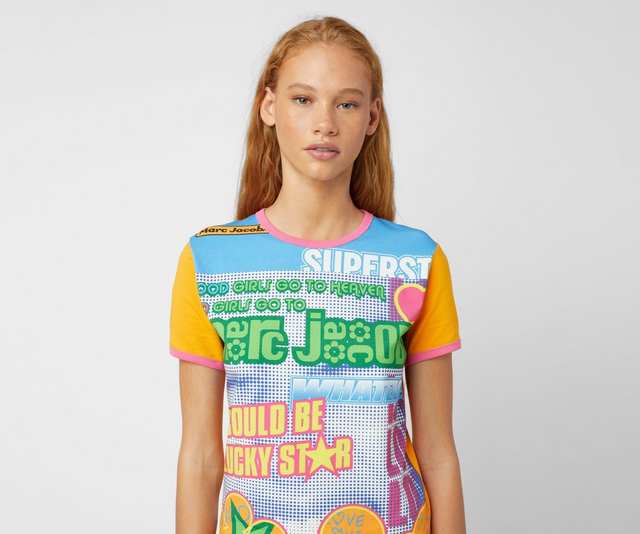 The Devon Baby Tee is the pièce de résistance of the collection. It has Devon to a T. Literally. Her face is on it. The bright colors with the different phrases can remind one of the early 2000s (especially with the font chosen), which is exactly what this collection is about. The baby tee has become extremely popular this year and Devon is no stranger to wearing one, as seen through here and here. It is also worn by Olivia Rodrigo for the Variety YouTube channel.
It is described as: "Shrunken baby tee with Devon's face layered between graphics. Worn as separates or as a matching set with the shorts."
To style: Since it is already a set, it is a no-brainer to style. However, if one wants to style it by itself, I'd grab a lot of inspiration from the color accents like purple, pink, blue, and green to make a cohesive outfit, like choosing accessories of those colors in particular. For example, a pair of black jeans and black platforms with an orange bag would bring the baby tee the main focus of this outfit.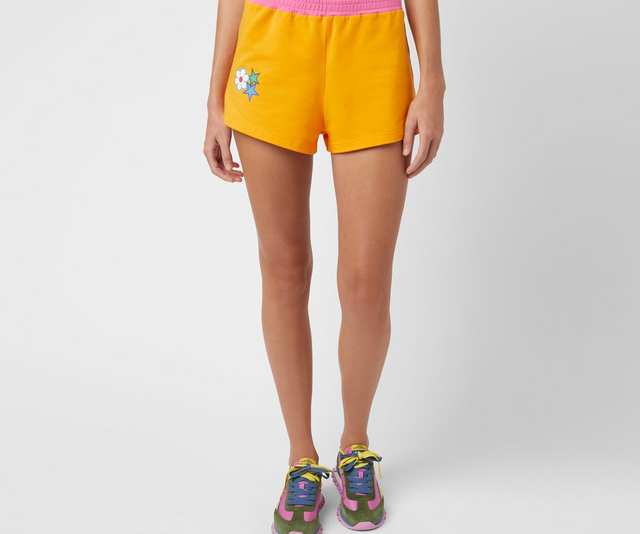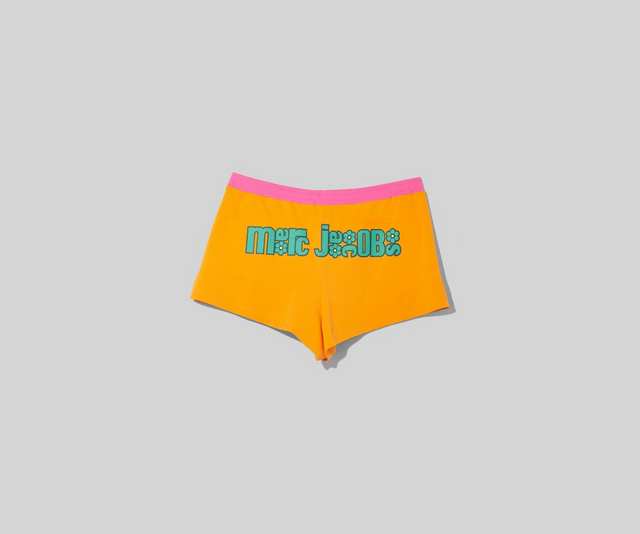 The Devon Shrunken Shorts is a great pair to the matching t-shirt. In an article with Vogue released in 2020, one of her work-from-home outfits was a two-piece matching set that she reveals she is a sucker for. Thus, It is no surprise that a set was included in her collection. The addition of the flower and stars at the front of the shorts provides youthful energy that pairs perfectly with the bright yellow color. The Marc Jacobs logo on the back of the shorts is reminiscent of Juicy Couture tracksuits which is another no-brainer when talking about early 2000s fashion.
It is described as: "Shrunken shorts with contrasting waistband and Marc Jacobs logo across the butt. Worn as separates or as a matching set with the baby tee."
To style: Again, these shorts were created to be worn with the matching tee. However, by itself, the best way to go would be a blue t-shirt to match the floral graphic and create a cohesive look that way. But one can't go wrong with a black or white top with such a bright pair of shorts. Add a pair of sneakers and you are ready to go!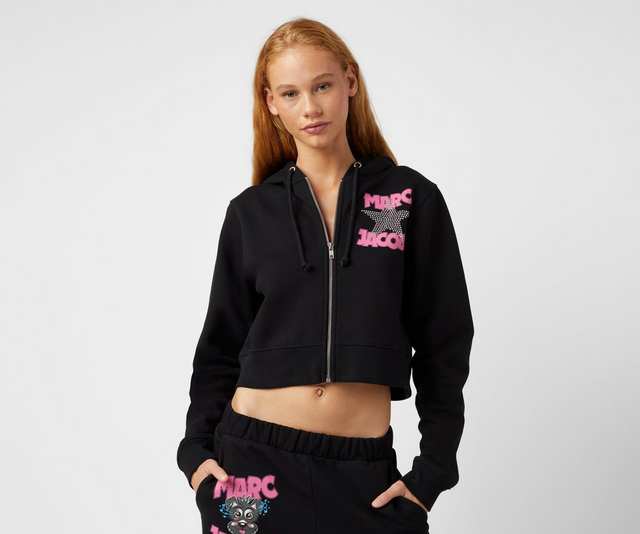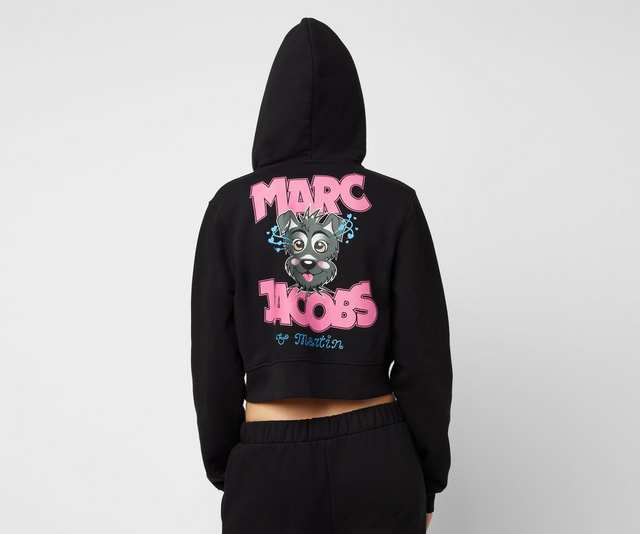 The Devon Cropped Zip Hoodie is another matching set. This time, it is all black with pink accents and a graphic of her dog Martin. The addition of the graphic provides a personal touch that fans of her especially will appreciate. Further, she has been known to be a passionate animal activist. Coincidentally, the most recent Wildflower Cases collaboration was with YouTuber Claudia Sulewski who designed a phone case for Dog Moms, which would pair incredibly well with this set.
It is described as: "A classic, cropped zip-up hoodie with a diamante star and Marc Jacobs logo on the front, and graphic of Devon's dog Martin on the back. Worn as separates or as a matching set with the sweatpants."
To style: Since this hoodie is black, it should match with everything and anything and is perfect for the fall weather we are entering. A plain tee and jeans with this hoodie would already be a solid outfit, but pink accessories would tie in the adorable graphic of Martin from the front and back of the hoodie. Another option could be a pair of cycling shorts to emulate Princess Diana's infamous and iconic style. This is something that has been popping up quite a bit and this hoodie would be a great way to follow the trend!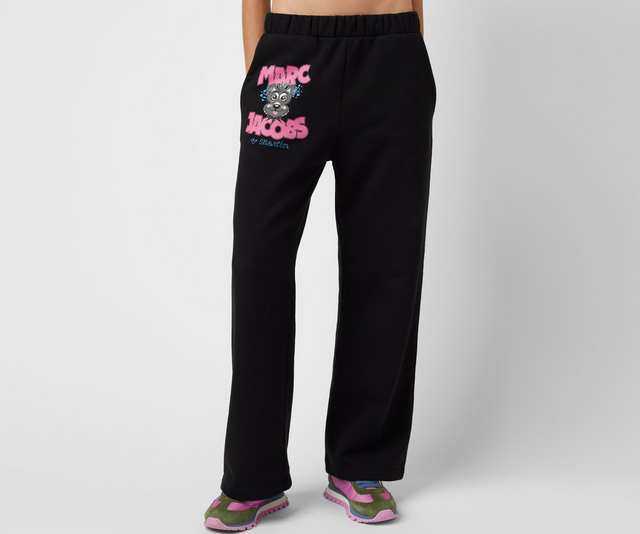 The Devon Sweatpants has the same graphic of Martin on the front of the pants. This matching set is definitely an ode to the Juicy Couture tracksuits we all know and love (that we know Devon knows and loves as well). It ties in the whole collection perfectly. The contrast between the animated graphic with the black color makes it wearable for any dog lover or any y2k fashion enthusiast.
It is described as: "A classic fit sweatpant with hidden drawstring waistband. Marc Jacobs logo and Martin graphic featured at the front right-hand pocket area. Worn as separates or as a matching set with the cropped zip-up hoodie."
To style: These sweatpants are a perfect piece to add to one's wardrobe as they are black with a cute design that is simple to style accordingly with because the main colors are blue and pink. Thus, a baby tee that is maybe blue, pink, or of course, white or black, would be a great way to start building the outfit. If went with neutrals like white or black, blue or pink accessories would be a perfect way to complete the look. A trend I've seen a lot recently is pairing a hoodie and sweatpants with a blazer, which would be very weather-appropriate for the coming months!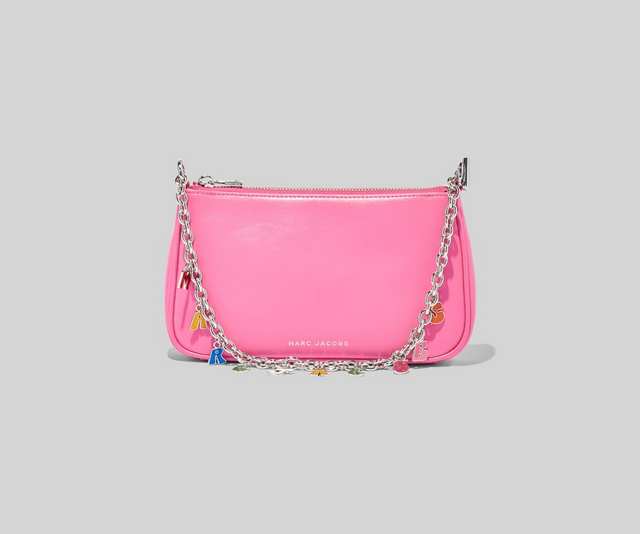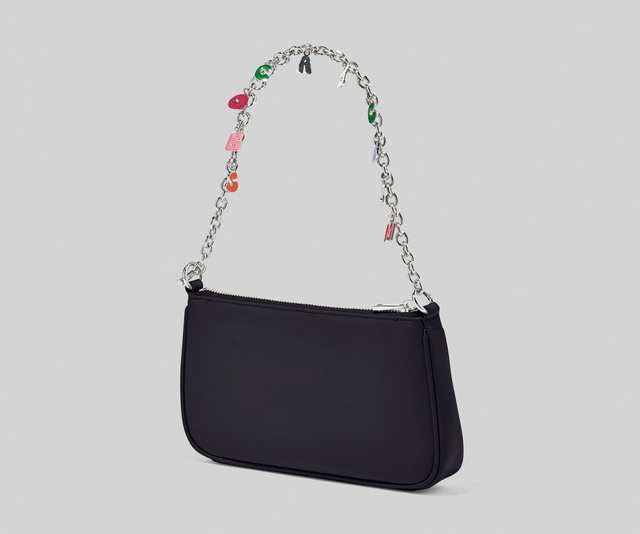 It cannot be a Devon collection without accessories. The Devon Charm Purse comes in two colors: pink and black. This handbag was recreated from her own personal archive of a similar Marc Jacobs purse. The strap is removable and can be worn as a necklace, a detail that makes this purse so much cooler. The purses go perfectly with the other pieces of the collection and were a great addition considering the rise in popularity of small purses like these.
It is described as: "Inspired by an archive Marc Jacobs bag, the Devon Charm Purse is a soft leather shoulder bag featuring Marc Jacobs initial charms. Removable charm strap can also be worn as a necklace."
To style: These purses are quite basic and would go with everything, even the pink option, as it would just add a pop of colour to every outfit. The charms in the bag strap add a unique touch to any look and are extremely versatile because they aren't too bright in color.
This collection was clearly designed for everyone due to each piece being versatile. It can fit seamlessly into any wardrobe and the possibilities of styling are endless. Though some pieces, like the Devon Baby Tee, are quite bright and out there, I think they could be timeless as they can be paired with everything. Especially with how pricey the pieces are, this is important as one can definitely get their money's worth for each product they purchase.