Arguably the creator of quirky individuality, Vivienne Westwood is the queen of statement patterns and sharp silhouettes. Taking a trip back to the 70s, Vivi's iconic influence began when she extended the culture of punk rock into fashion.
Moving into the 80s, Westwood's first catwalk show "The Pirate Collection" sparkled the London fashion scene, featuring sharp cutting techniques and fitted curvaceous hemlines.
 1. THE CLASSIC PLAID PRINT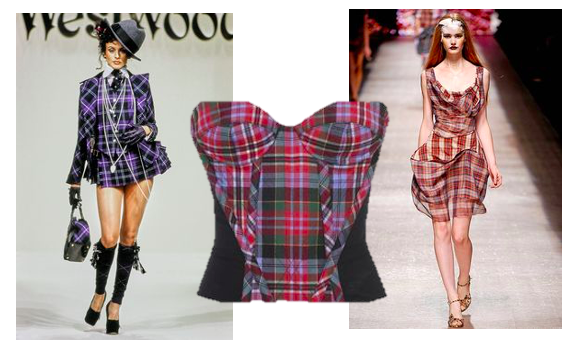 A staple pattern to spice up your wardrobe, these tartan stripes are a classic in Westwood's world. With the 90s origins of these catwalk looks, plaid is definitely here to stay!
The versatility makes this a sustainable dream- whether it's a tartan corset to add a punk flair to your outfit, or a matchy co-ord channeling your inner steam-punk goddess...this print can work for everyone!
My personal favourite piece must be this warm-toned red, deep tartan print midi dress. The draped neckline and cinching at the waist makes this dress a delicacy.
The autumnal colour palette calms the added-edge of this ra-ra skirt, I wish I could relish in this dress through the screen!
2.  REGAL CORSETS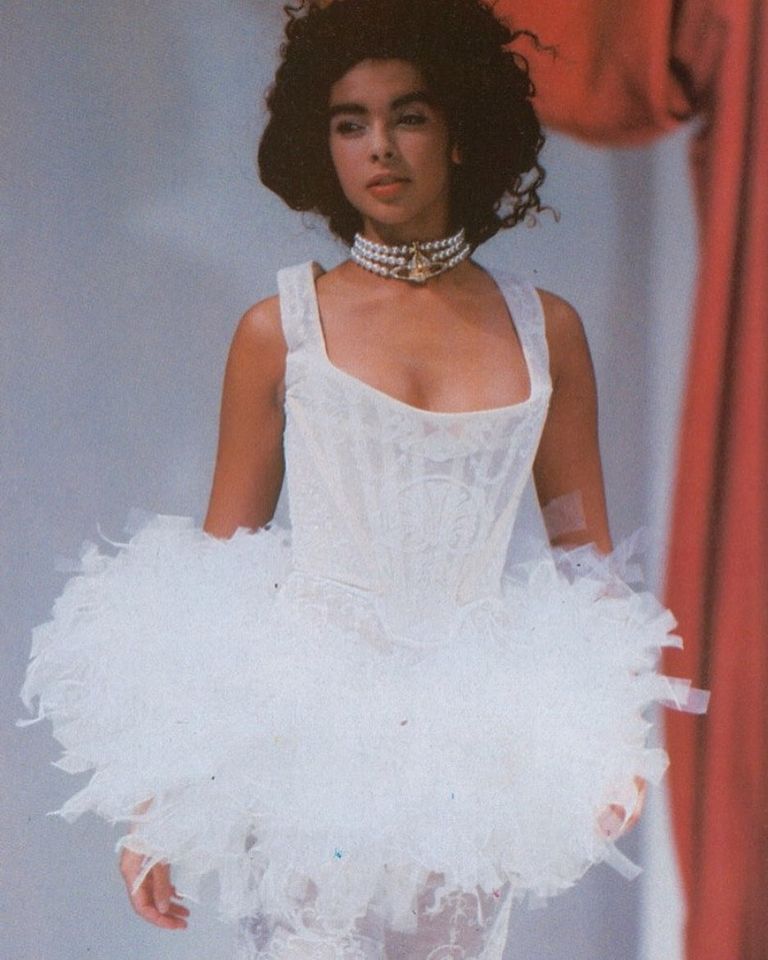 "For me the focus of a woman is the waist" - Vivienne Westwood
This transfusion of regal historic origins into a culture of modernity is ground-breaking, with more wearable nude colours making the corset a wardrobe staple!
Corsets were famously featured in Westwood's Portrait Collection of 1990, liberating women through a familiar figure of the past.
This marks Westwood's move away from street fashion into a historic indulgence- so why can't we live our Parisian Vintage fantasy in this stunning ensemble?
3. PEARL STATEMENTS
If you have been ANYWHERE on social media recently, you will have seen the iconic Vivienne Westwood pearls soaring in popularity since Autumn 2020.
I can personally relate to this, with the classy necklace being my favourite item of jewellery to accessorise EVERY outfit! Matched with the silver orb of modernity, this necklace has settled its way into our collections - and I'm not mad about it!
Westwood's orb is the embodiment of her creative direction, creating a passage between the traditional and the futuristic - being a fundamental legacy of her brand.
This necklace (born in 86') was inspired by the construct of British royalty- with the orb representing the British crown jewels, and the rings of Saturn giving a futuristic touch.
Ultimately, we can't deny that Westwood has put an innovative spin on fashion- framing future styles and statements by merging the cultural roots of the past. So, whilst we embellish in our pearls and plaid prints we must honour the queen who created them!
Her regal focus for collections is certainly representative of her artistic legacy on design in the fashion industry for decades to come.